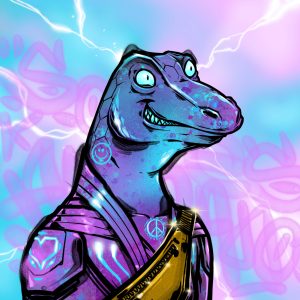 artgoanna.algo
T3UL3YBJZILL2WGJ5HG3EAVAR6H4ETVZ4RKFGDFBWAFZSG7PEXSQRN2NGY
DGOANM6JL4VNSBJW737T24V4WVQINFWELRE3OKHQQFZ2JFMVKUF52D4AY4
The Art Goanna series is an open ended collection that is intended for creative expression. It was originally created to allow curated collaborations with artists interpreting the Goanna in their own unique style. The scope of the series has expanded as it offers the perfect vehicle for Benji to experiment and explore the creative potential for NFTs.
As the NFTs are collaborations with other artists/projects ownership of these pieces does not come with commercial rights in the same way as the main Goanna collections.
Utility can vary depending on the release. All Art Goannas receive access to the private Goanna Holders Chat and the ability to vote and take part in DAO activities additional utility may/may not be included.
While NFTs are widely viewed as being confined to generative style animal Profile Pictures (PFPs), this project challenges this narrative and creates a set of works that explore both what an NFT can be from a technical perspective and also how our reality as market participants is impacted by external conditions. The art work also deliberately references the meme culture prevalent within the crypto space.
The trigger for this idea was based on the observation that community sentiment is highly correlated with market conditions. When prices are good the community is on a high. As market downturns occur there is increased negativity observed within the ecosystem. This relationship between price and mood inspired this dynamic series of NFTs where the Goanna's expression, location and clothing changes dynamically based on current market conditions.
While each Dynamic NFT tells a story by reacting to different timeframes or stimuli, as a collective this series also provides a unique picture of the current state of the Algorand market. To display the NFTs we have developed a unique dashboard where users can easily follow price action and market trends in an engaging way. The dashboard is openly accessible at https://algoanna.makerx.tech/ and the community is encouraged to use it as the way they understand the market.
These dynamic NFTs come with the following holder utility:
Lizard Lounge discord access
Goanna DAO access
Owners NFD name displayed on dashboard
Any future revenue generated through the dashboard will be shared with the holders as part of a licensing agreement
Russell Fenn, better known as Sofles, is an Australian graffiti artist originating from Brisbane. Self-taught, he has been honing his skills for over 20 years, exploring various mediums such as spraypaint, acrylic, drawing and brush painting, as well as digital and illustration works. Sofles' large scale murals have taken him around the world ten times over and now grace many of the world's largest cities, including Berlin, Copenhagen, Oslo, Las Vegas, and LA.
Clients he has worked with include Amazon Prime, Amity Affliction, Commonwealth Games Gold Coast, Culture Kings, ESPN, Ironlak, Juddy Roller, Marvel Stadium, Miami Art Basel, Mural Oasis, Quicksilver, Red Bull, Tennis Australia, Uber, Universal Studios, Westfield and many more. His bright graphics, strong colours, fine details and abstract elements have caught the attention of many art-lovers and those alike.
Having recently released his debut NFT series "Blackbook" in partnership with Meadow Labs the Art Goannas from this collab get unique benefits in both the Goanna and Blackbook communities.
In the first of the Goanna DAO initiatives a group of holders came together to purchase an ape from MAYC. This lead to a series of events that provided the narrative for the V2 collection Mutants V Zombies. As a thank you, an Art Goanna was created with traits from the Andy the Mutant and presented to the DAO as a thank you.
Read the full story here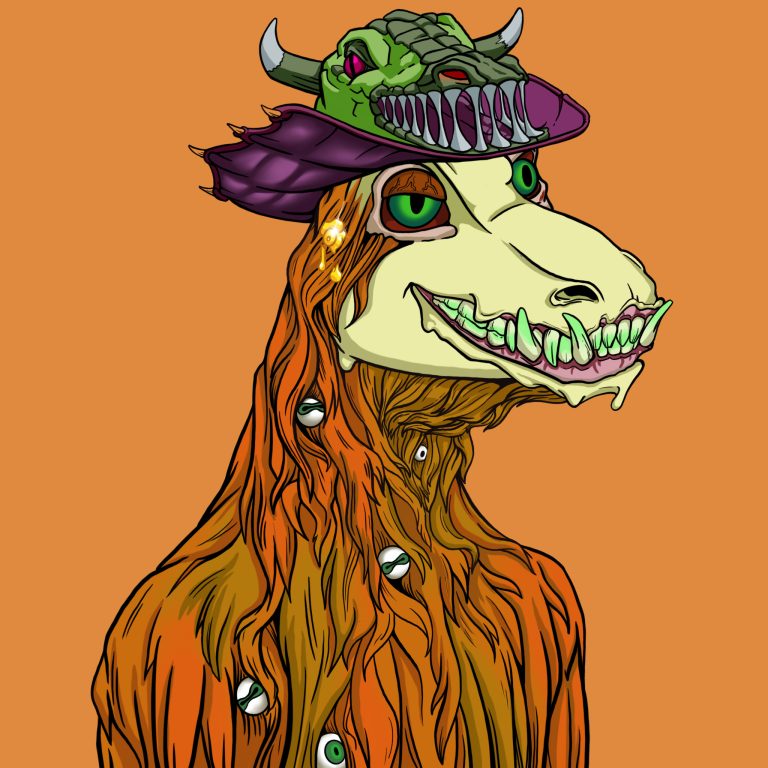 The first collobarion in the series saw artist and founder of Algopulse, Caleb Hutchinson provide his spin on the iconic Goanna. An established illustrator and animator based in Brisbane, Australia.

Read the full press release here