888 Algo Gators have crashed Decipher Miami.
It's okay though, Algo Gators are VIPs (or more accurately VIAs) –  wherever they choose to roam and owning one gives you access to the best show in town…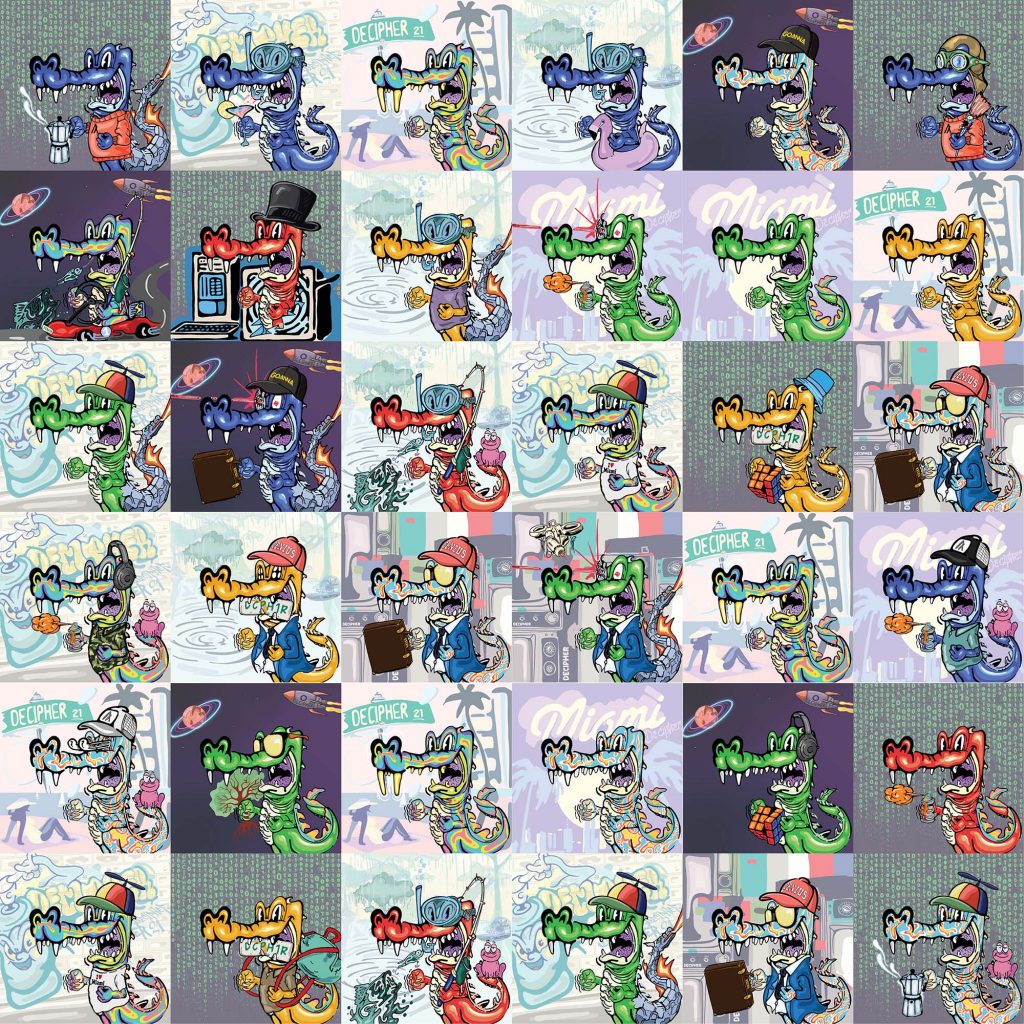 Each Algo Gator is a randomly generated 1/1 NFT.  No two Algo Gators are the same – each has a unique set of traits (some rarer than others) which make them each special. 
The first 444 Algo Gators are attending Decipher in Miami and will be used as tickets. Algo Gators numbers 445 – 888 will be joining virtually.
TO THE ALGORAND COMMUNITY & CITY OF MIAMI
Algo Gators are a commemorative token given to Decipher Miami 2021 attendees. Algo Gator's crazy, colorful, unique design and traits were inspired by and for the Algorand community. Some traits are a tribute to the Algorand ecosystem, some to the city of Miami and some might be hiding in plain sight;)
With Algorand's commitment to sustainable blockchain the environmental cost of minting each AlgoGator NFT is truly negligible. Furthermore, the Algo Gators, in collaboration with Al Goanna are supporting Carbon Neutral's plant-a-tree Conservation Program – Australia, with 8,880 trees.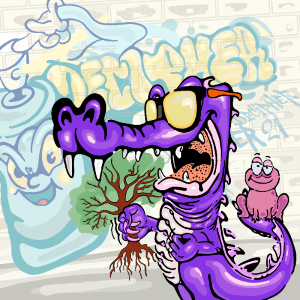 This series is a collaboration between the Goanna brand and emerging Sydney artist Ink Hunter. Goanna has recently exploded onto the Algorand NFT scene with their debut collection "Al Goanna" and was commissioned by Algorand to oversee the Algo Gator project to coincide with Decipher 2021. 
Speaking about this project, Benji from Al Goanna says "This was a really exciting opportunity to work alongside the Algorand marketing team and develop this series of NFTs for the event invites. For this project we have teamed up with Sydney environmental artist, Ink Hunter. We were introduced through a mutual artist connection and there was an immediate synergy in our shared values around using art as a vehicle to enact positive environmental change."
With their work having such a strong focus on sustainability, Ink Hunter, previously resisted working within the NFT space. Algorand's carbon negative approach coupled with the tree planting initiative meant this was the perfect opportunity to transition to releasing work as NFTs.  
"As an artist, I feel excited about digital progression and the opportunities for creativity it presents. These NFT artworks have allowed me to connect with a new audience, while continuing to  spread my message of sustainability." said  Ink Hunter.
The Goanna brand is looking forward to using their platform to attract new artists to create work within the Algorand NFT space and is excited to continue to collaborate with new and existing artists on upcoming projects.